About Sol Plaatje University, SPU
Sol Plaatje University (SPU) opened in 2014, the first of two new universities to be established in post-apartheid South Africa. It is also the first university to be established in the Northern Cape Province.
---
University Faculties
The University comprises numerous faculties, schools, colleges and departments.
SPU offers undergraduate and postgraduate programmes in four Schools: Economic & Management Sciences, Education, Humanities, and Natural & Applied Sciences
Find the list of Schools  available at the university (SPU)
---
University Contact Details
For various queries that involve admission, student help, the fee structure, courses and requirements at the SPU you can use the following contact details and information.
Sol Plaatje University, SPU Courses and Requirements
To secure admission at the SPU prospective students must meet the University admission requirements for the specific academic year. The following are the admission requirements for admission at SPU.              
There are the minimum academic requirements for admission to SPU's study programmes .The requirements are based on the results that applicants achieve in the South African National Senior Certificate (NSC) examinations. Applicants who hold certificates from a different examination system will be considered individually for admission.Even if you  satisfy the minimum admission requirements stated here, this does not automatically mean that you will be admitted to the study programme at SPU. The final decision on your admission will be based on your academic performance and the availability of space in the programme.These are Calculating the SPU Admissions Points Score (APS) the better score the better chance to join SPU.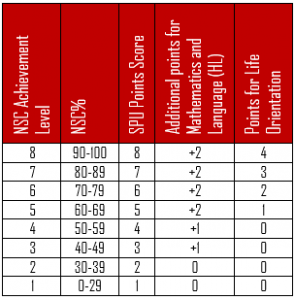 ---
University Prospectus
Sol Plaatje University Prospectus (SPU Prospectus Pdf Download)
SPU Prospectus comprises the list of courses, course information, campus facilities, accommodation, fees, financial support or bursaries, entry requirements and all admission application information to guide you through the SPU admission process.
---
University Fees structure
Fees structure –  Sol Plaatje  SPU Fees structure
If you are looking for the SPU Fees structure, this information is quite helpful and can be used positively.
---
University Student Portal
Accessing SPU Student Portal
The SPU student portal provides an engaging student experience with a single point of access to all applications, information, and content necessary for university studies.
How to access/login to the SPU student portal
 How to Recover Your SPU Student Portal Forgotten Password?
---
University admission- Online application
SPU Online application
To complete your SPU online application please follows the following application procedures:
 When to apply at SPU – SPU application dates
Applications open between November and close around early of January every year. Please try to submit your application as soon as possible. Because some Universities do not consider late applications.
---
University Application status
SPU Application status
When the SPU updates your application, you will receive email communication. Please Keep on monitoring your email account closely for updates. You can also check your status online with the log-in credentials that were provided after your application. Keep in mind that some universities do not disclose your application status telephonically.
To check the progress of your application through the SPU Online application portal follow these easy steps:
---
University Admission offers
How to accept SPU admission offer
After a successful application, you will receive an admission offer from the Sol Plaatje University, to accept your SPU offer of admission, log in to the SPU Online application tool and select the "Confirm" tab. You must respond by the expiry date noted in your offer
University Semester Exam Results
Check your SPU semester Results
Checking SPU, Semester exam results can be done by visiting the official SPU website or logging in to the student's news or portal through SPU Results then click on the Examination Results tab or Result tab to follow instructions.
University Website
Sol Plaatje University Website
To access more details about the University please visit the official website at https://www.spu.ac.za/. For the latest articles visit here
Sol Plaatje University, SPU Latest Updates